"Patience is bitter, but its fruit is sweet."― Aristotle

We have built a business to represent, protect, and cultivate what we consider to be a small but important part of artistic heritage and culture: The Greek Jewelry Industry. It is one of the oldest manufacturing industries on Earth. From its beginnings in approx. 3,000 BC, through today, Greek jewelry has been in near constant production. Despite enduring hostile occupations (by the Romans, Ottomans and Germans to name a few), the greatest threat to this continuity has been mass-production overseas.
Your piece will be made by the hands of a craftsman who consciously continues this tradition. Your piece will remain a work of their heritage long after it has left the workshop.Our collection of high quality traditionally-handcrafted jewelry is a celebration of your individuality because each piece is customized for you... only once we know your size do we begin making your piece. Each piece is made to fit perfectly and please for a lifetime, and is also part of this amazing story.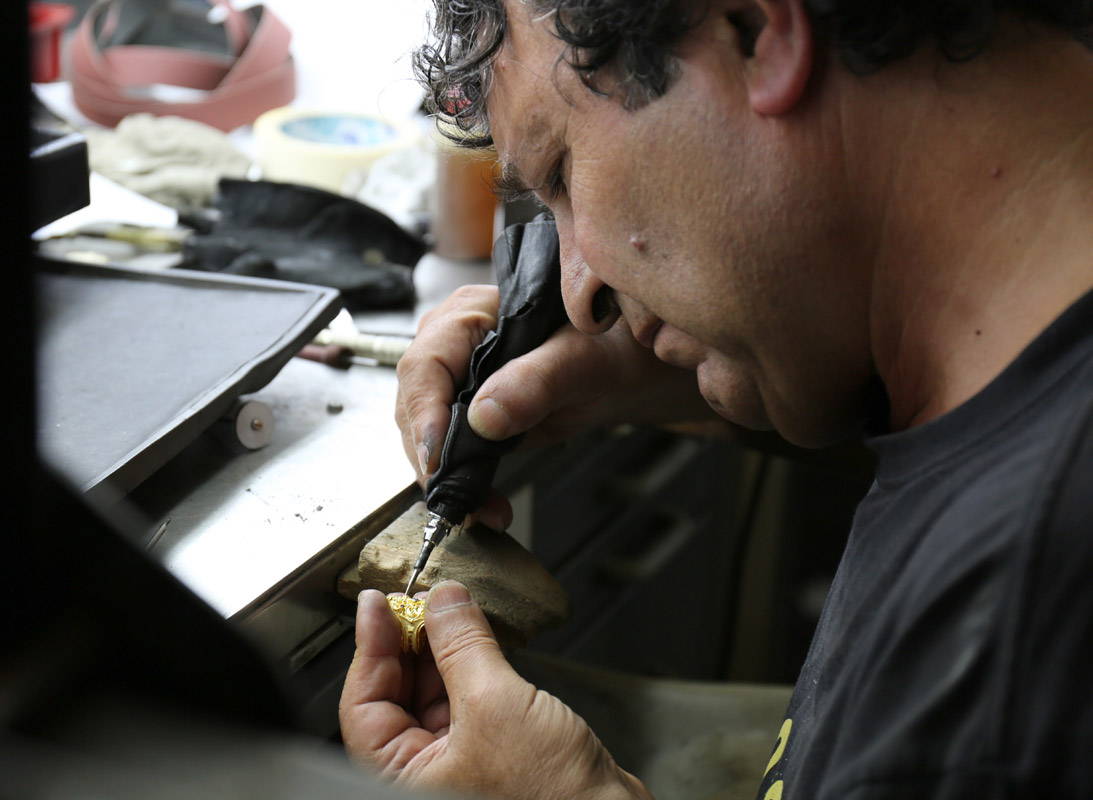 Giorgo Damaskos adds finishing touches onto an 18k gold ring.
We've partnered with designers and workshops who are dedicated to a traditional hand-crafted process, and whose manufacturing happens entirely in Greece to ensure that one of the world's oldest manufacturing traditions survives and thrives in the digital age.We are as proud to bring you their work as we are to consider them our family.
Making the connection between designer and customer is the most gratifying part about running our business. Our designers remember your previous orders. Salutations cross oceans and borders, and before you know it Giorgo Damaskos is throwing an extra little gold flower into a design for somebody, or Spiros Gerochristo is telling us he wants to upgrade an order. We deal with small family businesses ... and that's how everyone gets treated—it's all a family thing.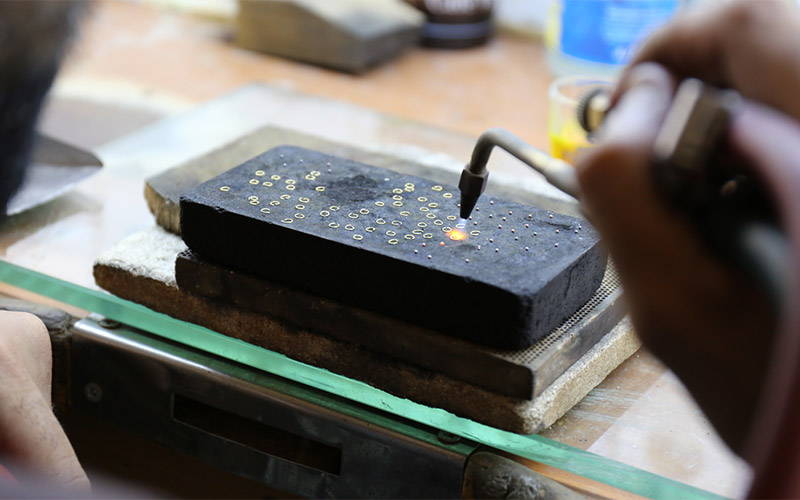 High-karat gold loops are fired in the beginning of the Granulation technique. The loops will form balls that will be placed individually onto the jewelry—A steady labor of love.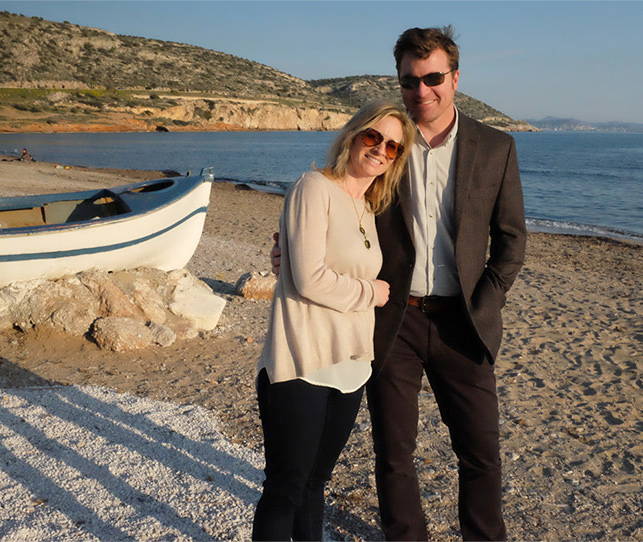 Joanne and Peter at a beach taverna in Greece — Απέραντο Γαλάζιο - ΝΑΟΒΒ

Peter Bradley
Founding Partner
Peter is not the conventional jewelry businessman one would imagine. After surviving 9/11 he moved to Greece and discovered intricate jewelry handcrafted by Giorgio Damaskos, Spiros Gerochristo, Grigoris Evangelatos and many others. He has brought worldwide recognition to their artistry with his inception of Athena's Treasures. He loves to personally interact with customers and collaborates with the craftsmen to ensure that each piece of jewelry is exactly what it should be—an expression.
Joanne B. Bradley
Managing Partner
An established online development professional and photographer, Joanne helped expand Pete's existing business ideas when she met him in 2014. Her creative spirit enlightens the personality for Athena's Treasures. She energizes the business by providing customers with a seamless experience through all forms of communication.
Joanne and Pete live in New Jersey. They travel to Greece several times a year to seek and offer you the finest jewelry in Athena's Treasures.

A team of talented go-getters nurtures Athena's Treasures and makes everything possible. A special thank you to each and every one of them for their efforts.
Håvard Wattum
Hailan Cai
Jade Xiaoyu Wang
Jawad Munawar Khan
Jinyang Bian
Prachi Gohil
Sameer Trikannad
Tene Washington
Tiffany Hsu
VickyShin Huang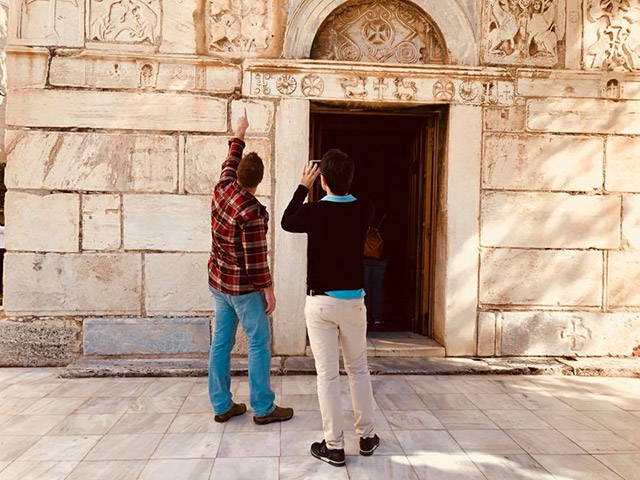 Peter and Håvard are preparing a video, this one showing how our artisans are inspired by ancient Greek architecture. They are at The Little Metropolis, formally the Church of St. Eleutherios (Άγιος Ελευθέριος) a Byzantine-era church located next to the Metropolitan Cathedral of Athens